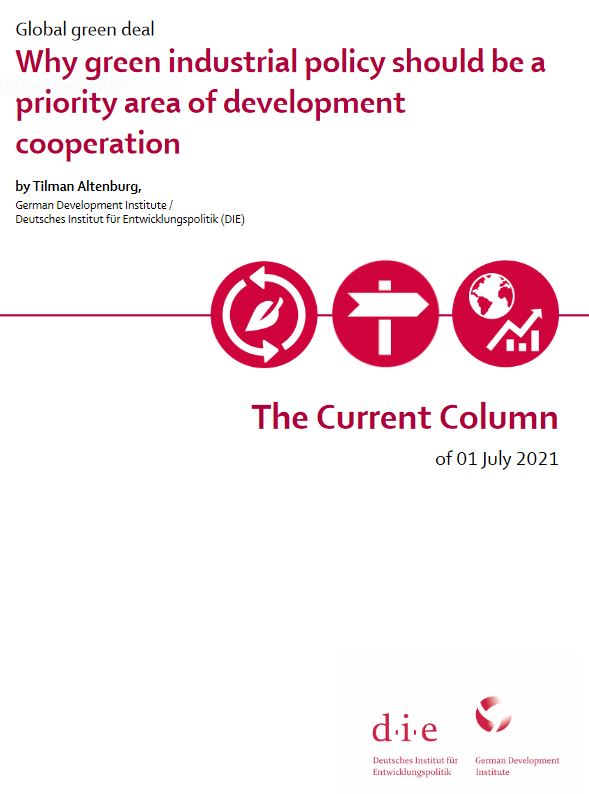 Altenburg, Tilman
The Current Column (2021)
Bonn: German Development Institute / Deutsches Institut für Entwicklungspolitik (DIE), The Current Column of 1 July 2021
The European Union has put down a marker with its Green Deal, recognising in the need to ecologically restructure the world's economies an opportunity to modernise the European economy and make it more competitive. This represents a break with the still widespread view that economies can only flourish if environmental requirements are kept to a minimum and that environmental protection should be remedial in nature, retrospectively offsetting environmental damage to a certain extent.
Smart industrial policy anticipates future market conditions, guiding and supporting the domestic economy in gearing itself to these conditions, ideally before competitors do the same. Alongside digitalisation, environmental protection is currently the main driver of change in economic structures. Take China, for instance, which recognised 15 years ago that electrifying its bus fleets would not only be a cost-effective means of reducing particulate pollution, but also a growth market, as all of the world's major cities would one day follow suit. Electric buses have been readied for series production using a combination of regulation, research funding and purchase subsidies. China currently has a 96% share of the global market for electric buses, with transport operators from around the world buying the vehicles in the country. Major automotive nations such as Germany have woken up late to this trend.

How can international development cooperation promote green industrial policy?